The Art of Style Part Deux
May 14, 2015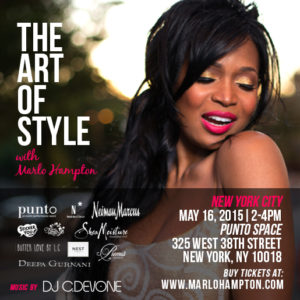 Hey Divas and Divos! It's time! The Art of Style hits NYC on Saturday and I can't wait to meet you.
You all know, I've loved all things fashionable for as long as I've been breathing it seems like, but you know what I love more? I will be giving away some of my favorite things in our gift bags!!!! But before I get to the giving part of my trip, I have to make a few stops to let the press know the real Southern Peach is here taking the Big Apple by storm!
I have a lot of interviews and meetings lined up but a trip to NYC wouldn't mean a thing if I didn't attend the new exhibit for one of my favorite fragrances, CHANEL N°5. This iconic house of all things couture will be hosting an eleven-day public exhibit entitled "N°5 in a New Light," which will celebrate their N°5 fragrance every day from 12pm to 8pm through Sunday, May 17.
Oh, before I go any further, I have to give a huge shout out and thank you to Sticker You for providing our exclusive event signage for the NYC Seminar. We are so appreciative for your support and will definitely spread the word on the quality of your products and services.
I also have to thank my girl, Ashlee Wilson, for providing Boss Babe Body Scrub products for our gift bags (teaser alert.) The original Boss Babe scrub is chock full of healthy organic extras to remedy every skin imperfection. It targets all our problem areas like cellulite, stretch marks, psoriasis, varicose veins, eczema, and acne with ground coffee beans.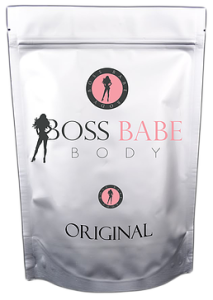 We will be raffling off a gift pack sponsored Farai, President and Creative Director of the fashion label Farai and the designer behind the Nicki Minaj Collection. The gift pack will feature the "I am because you are" Tee from their brand that supports the empowerment of women, a tote bag, and a $50 gift card to purchase an item from their upcoming SS16 Collection.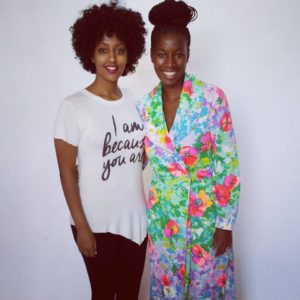 One last thing… I just want all of you Divas and Divos to know that I am not ignoring you if you've sent me a message, pic, etc, and didn't get a reply. There's a lot on my plate at the moment. No, it's not an excuse – it's the truth.
I just want to thank you for all the love, support and advice you've shared thus far and I look forward to showing you even more through our seminars. Now if you haven't already, tell a friend! Let him know… the Queen Diva is Here! You can purchase tickets here.
Looking forward to seeing you on Saturday!
Muah!
Marlo!