Cameos in the middle of chaos
January 8, 2016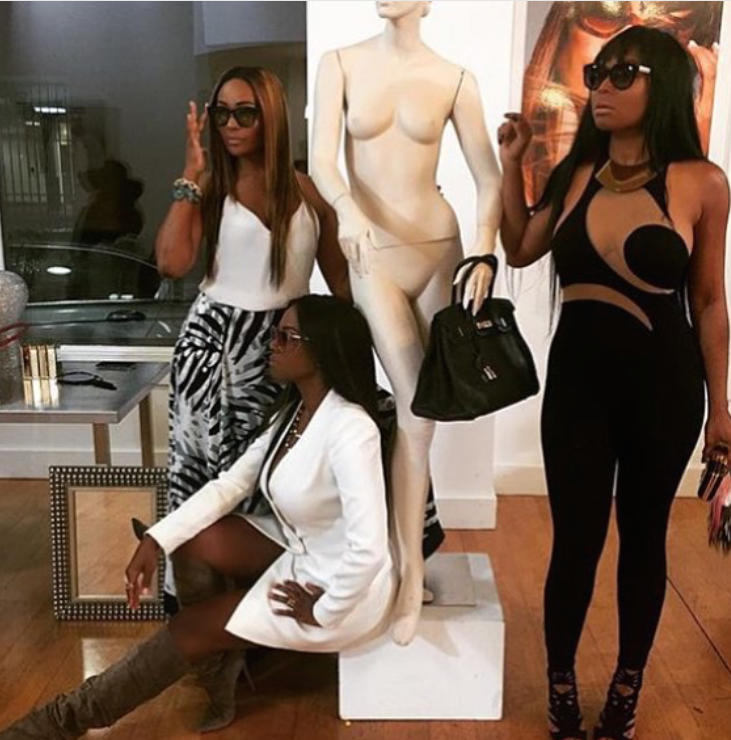 I know Divas and Divos, you have only caught a couple of short "Marlo sightings" in the last couple episodes of RHOA. But, with all the drama that's been going on I'm kinda glad I haven't been in the mix!
I mean did you see that mess in Miami? Obviously it's not easy being a "friend" to the ladies with a peach because they will definitely stick together when things pop off… (Side eye mmm hmmm) I agree, the situation with the foul mouthed nephew probably could have been handled differently, but as they say, hindsight is 20/20. Note to self, "don't snap my finger at people to get their attention… it's not just rude, it's dangerous!"
And despite how lazy (but cute) I looked during my workout with Kenya, this diva is no stranger to sweating! I just prefer to have a trainer who makes me work to my full potential. On my own… I might not, but I know if I want to keep wearing the fashions I love so much, I gotta keep this body tight!
On another note… Let me give the lovely Ms. Bailey a shout-out for launching her line of eyewear and for using me to do the décor. Did you love the naked mannequin with the Berkin Bag? No clothes needed right? Drama with Porsha, Phaedra and 'em aside, the event was a huge success and her glasses were selling like a crazy! Go to her website and get you a pair. That's my girl and I am so proud of her. Hope she continues to do big things.
Speaking of big things… did you see the sneak peek at next week's show? Kenya is going to visit her mom!!!! We all know that not having her mother in her life has been a real source of pain for her and based on what we know, it seems that her mom has not been warm or fuzzy about the idea of having a relationship with Kenya – so things could easily go left real quick. But Kenya is also my girl and I only want the best for her – so help me ya'll, let's pray for a happy ending ok?
Well divas and divos, today I'm making a cameo here just like the ones I've made on the show lately, but if you want to see more of me – tune into my web series, "Marlo's Closet". Episode 6 just premiered today featuring blogger, Talking with Tami.
In the meantime, keep on doing what you do! I am grateful for all the love, the followers, the support, the inspiration and yes, like I said before, even the hate. It keeps me grounded and makes me keep striving to be better.
Tune in next week… I'm like you, I want to know what happens too!!! Til then…
Smooches,
Marlo