Cocktails, Chicken Wings and "Tea"
November 25, 2015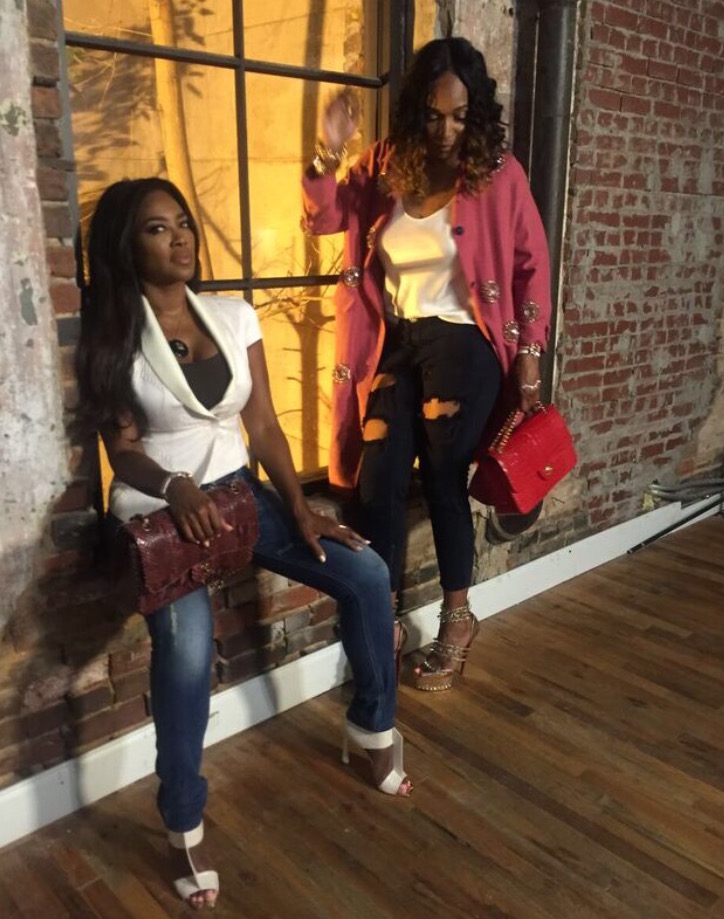 Divas and Divos time to spill the tea! Get your cocktail, some chicken wings, kick your feet up and let's dish on this week's episode (but be careful not to choke on them bones! Lol) Here we go…
Sooooooo Phaedra and Porsha decided to get clean "from the inside" by having hers and hers colonics. Aren't they becoming quite the bobbsey twins – wearing similar jumpsuits at the same time (They had to co-ordinate – in my John Witherspoon voice).
Well, I guess they are no longer full of "sugar honey iced tea" huh? Mmmmmmm… that's literally right? Okaaaaaay, moving on…
Let's be serious for a minute. Cynthia and Peter's situation was real! I mean really real. And wasn't it some grown man stuff when Leon told Cynthia to stop walking away from relationships and fight for her marriage? I mean he has always been "that dude" but he deserves a whole new level of respect for that. Love and marriage is for grown-ups, so I am rooting for them to make it. Watching that made me teary-eyed, you too right? Let's all send them some good vibes, there is enough divorce in the world, especially on reality TV. Right now I am on Leon's team. Peter ain't perfect (who is?) but he's a good guy. I hope they both find a way to fall back in love with each other.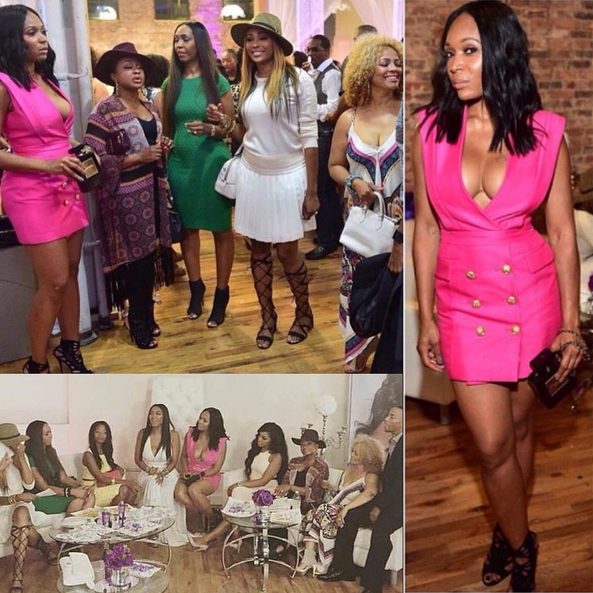 Back to the "tea" and a bite of my chicken wing… where's my hot sauce?
Let's talk about Kenya's "hot" hair care launch party! But wait… did you see this diva rocking her torn jeans with stilettos? Yessssss honey! I am fashionable even running errands! But I digress, we were about to start talking about heat. It wasn't hot in there ya'll, it was hawt!!! I mean my weave was about to go back to its pre-flat iron texture. And I feel sorry for anyone who had their tracks glued in… it was definitely sliding off by time they left that spot. This was a lesson to watch who you work with. We thought the venue had "potential" but both me and Kenya told them to put the air on frost. They must have thought we said furnace because that's how it felt. I know my girl had a totally different vision so I understood her disappointment. I know for sure she won't be working with that party planner in the future. IJS!
Before I go any further, didn't Kim Fields look amazing? She has such a beautiful family and she seems real down to earth. I just have to say that she will always be Tootie with skates and braces to me! Love me some her and look forward to getting to know her better. She just met these ladies. Can't wait to see if she can turn-up with them, (raised eyebrows!).
I've done enough talking about the show. Holla at me here on my blog, or on Instagram and let me know your thoughts on the show. I want to hear from YOU!
You guys can also keep in touch with me on my YouTube Channel through my show "Marlo's Closet." Episode 3 airs tonight and on this show you can go with me to get dolled up by an amazing makeup artist, Latasha Wright in the "Toast to Style" segment. Check it out…. My show is all about my favorite subject, Fashion, from my crazy point of view. It's fun and informative – so I hope you'll start tuning in.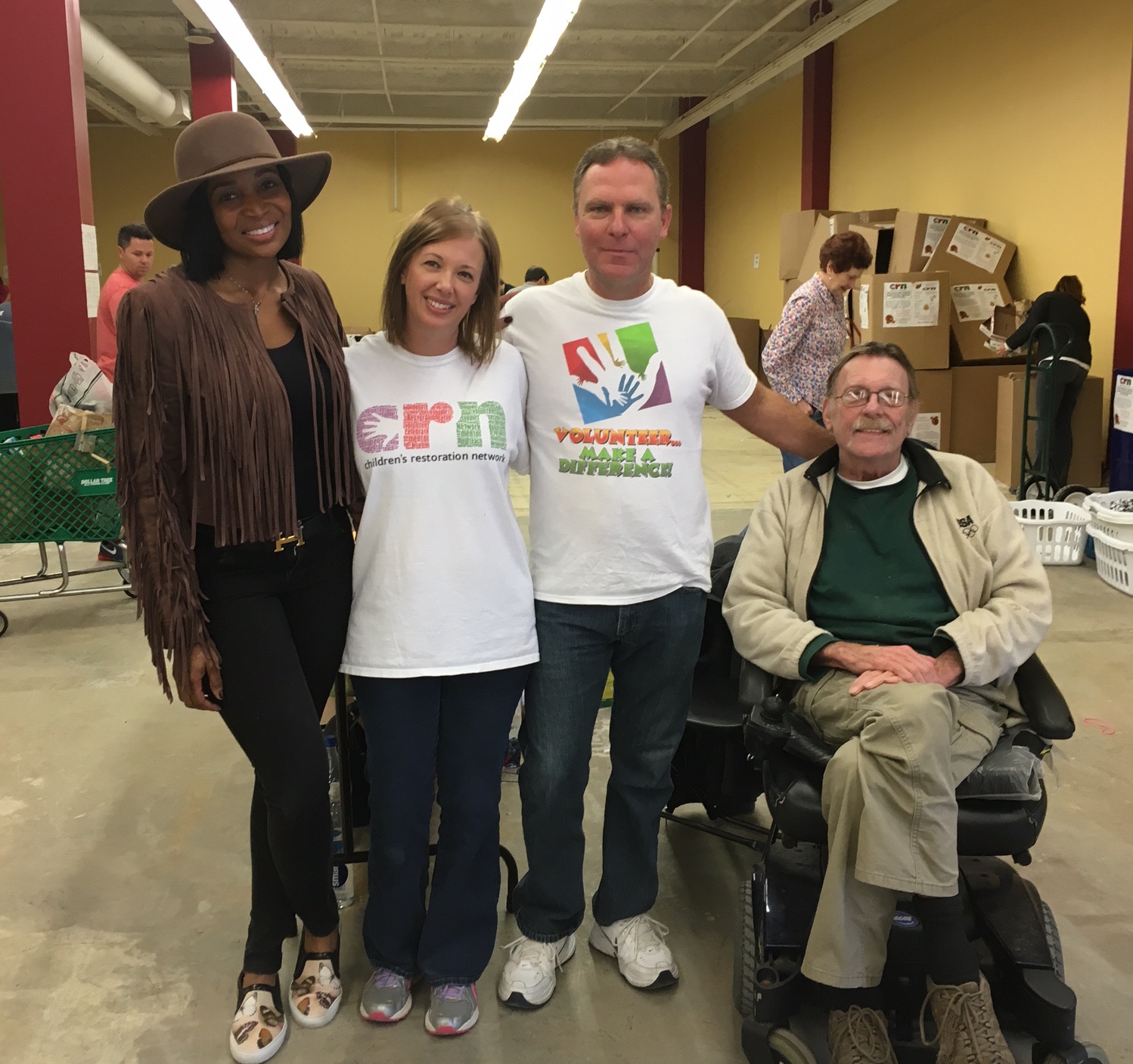 And finally, this past weekend I got to do something that is always near and dear to my heart. I got to spend some time giving back at the Childrens Restoration Center right here in the A. There is nothing that brings me more joy than giving back. We laughed, we made blankets, we packed groceries for families in need in other shelters and whenever I am sharing my blessings with others, the more blessings I receive. I can't encourage my divas and divos enough to spend your life giving in any way you can. Looking into the faces of people you know are truly grateful for whatever you did, especially when you treat them with dignity is priceless. So, I want to shout out the staff and especially the kids (because ya'll know Marlo loves the kids!) at the Childrens Restoration Center for helping to make yesterday's event a huge success. A big thank you to the staff and everyone involved.
Ok… my cocktail is kicking in and I'm not sure I will be able to keep on thinking before I write. Lol! My chicken wings are banging too! (all of you know you love a good chicken wing!)
Til next week, have an awesome Thanksgiving. Do as the words say, give thanks and give to someone who wishes they were in your shoes. Love you for life Divas and Divos!
Muah-Muah (on both cheeks!)
Marlo