Marlo Hampton created Glam It UP, Inc. a 501c3 in 2011 to encourage young girls in the foster care system to excel beyond their current status to achieve success in all areas of their lives. "I wanted to give young girls the guidance and the chances I didn't have growing up in foster care, and hopefully they will pass it on to the next generation of young women." – MARLO HAMPTON
As a child, Marlo was a ward of the state that grew up in the foster care system due to her mother's battle with addiction and abuse. Capitalizing off of her newfound fame after appearing on Bravo's The Real Housewives of Atlanta she founded Glam It Up, Inc. After aging out of foster care Marlo went on to defeat the odds by receiving a Bachelor of Arts from the University of South Florida where she studied Social Work and Interdisciplinary Science. By 2008, Marlo opened her first high-end fashion boutique which catered to the who's who of Atlanta's elite. She is a living and breathing example of hard work and credits her success to her foster grandmother Arrie Holmes.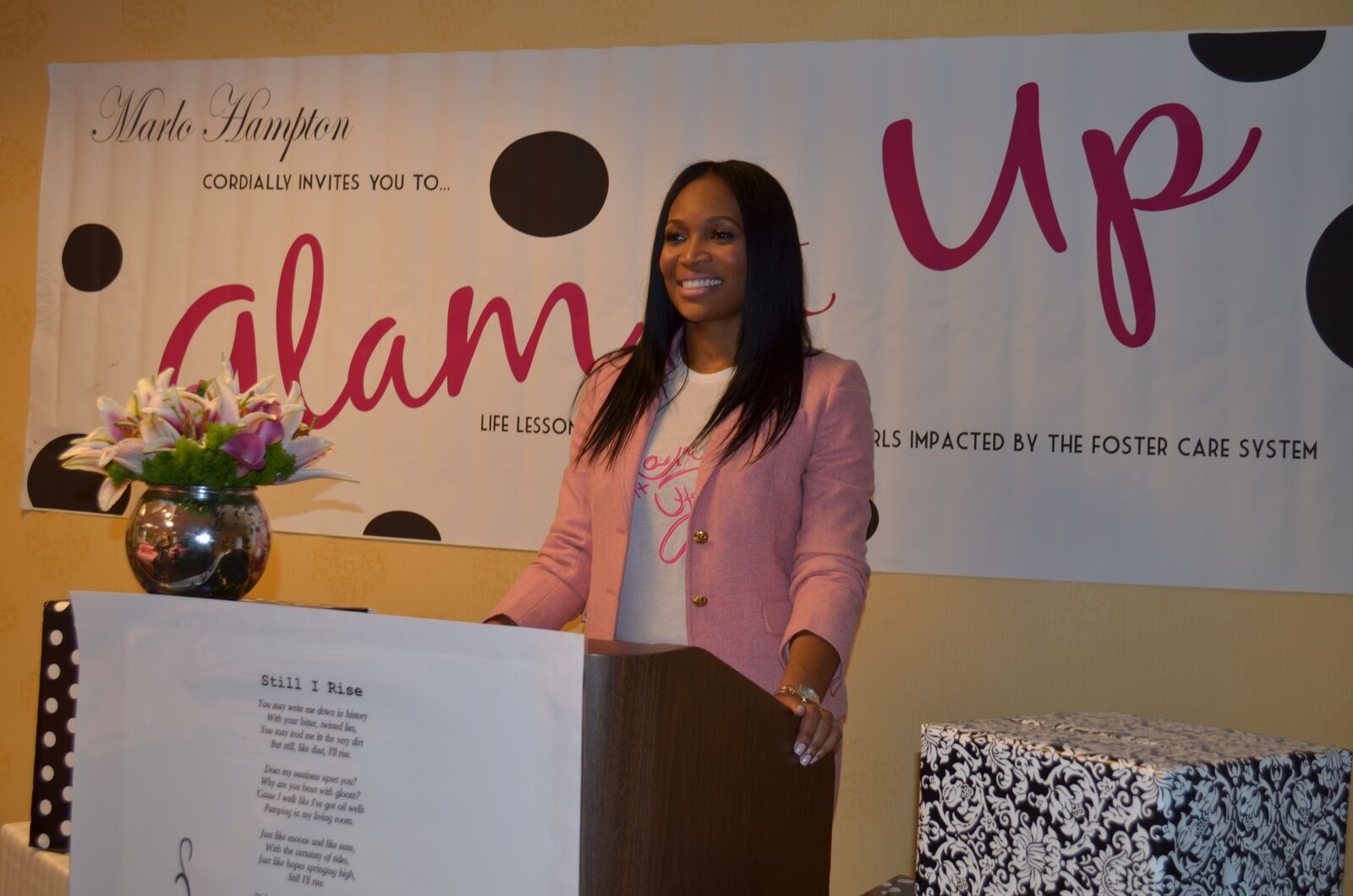 The GLAM IT UP, INC. Mission:
To enhance the lives and vision of girls in the foster care system based upon long-term, empowering contact with caring adults and a wide range of support services offered by a collaboration of partnerships.
To teach confidence, self-esteem, and leadership and create a development program designed to create vision and develop dreams for girls and young women through enhancing self-confidence, motivation, self-esteem, and responsibility.
To encourage girls and young women in any foster care system to thrive in their education and to strive for academic success.
To encourage foster care girls to achieve economic success and to learn the importance of how to use credit and to maintain their credit viability.
To teach entrepreneurship, financial development and stability, and creative academic development
To teach the importance of fashion, style, beauty and hygiene; in other words, how to GLAM IT UP and make a great first impression by their appearance.
On Sunday, June 11, 2017, Marlo and the National Youth Advocate Program will present "LESSONS, LAUGHTER and LOVE!" A one-day mentoring event featuring beauty pampering, personal and professional life skills training, entrepreneurial and education guidance to benefit Atlanta's foster care youth. According to the Adoption and Foster Care Analysis and Reporting System as of 2014 of the 414,129 children in foster care in the United States, 48% are female with 23% between 6 – 10 years old and 22% between 11-15 years old. Additionally, according to the only national study of youth aging out of foster care, 38 percent had emotional problems, 50 percent had used illegal drugs, and 25 percent were involved with the legal system. Your donation will aid Marlo in continuing her mission with Glam It Up, Inc. to help the female youth of Atlanta affected by this system and defy these mounting statistics. No donation is too little.
DONOR LEVELS:
Bronze: $50 – $750 or Service and/or Good donation| Silver: $750 – $2,500
Gold: $2,500 – $5,000 | Platinum: $5,000 and above
IMAGE GALLERIES
View past images below in the Glam It Up, Inc. gallery.